Career Talk – Ayesha Nayyar Senior Solicitor/Director at Nayyar Solicitors ( Published: 22/10/2019)
As part of our school Careers provision we were delighted to welcome one of our ex-students Ayesha Nayyar for a Career talk with our Year 10 students.
redd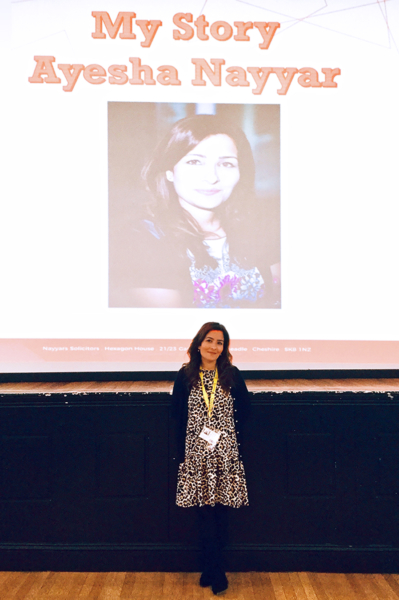 Ayesha Nayyar's Profile
I graduated from the University of Manchester in 1995 and qualified as a Solicitor in 1999. I subsequently became a Partner in the city Centre Law Firm that I trained. Nayyars Solicitors was founded in 2010 with the aim of it becoming one of the leading law firms in the North West. We have now opened a 2nd office in Levenshulme, the inner-city area of Manchester I grew up in.
My background is specializing in high value personal injury and fatal accident claims. I also handle a number of complex family, immigration and debt action cases while managing the practice.
I have lectured extensively and over the years have become renowned in the field. Before setting up Nayyars Solicitors I was Head of Dispute Resolution at BPP Professional Education delivering CPD courses to both public and in-house clients including magic circle law firms and insurance companies.
I regularly contribute to newspapers and appear on TV talking about legal issues. I have been a guest speaker on BBC Breakfast, Sky News and the Victoria Derbyshire Show. I also do a weekly radio show on a local radio station.
At Nayyars I am Client Care and Compliance Partner and am committed to ensuring we give our clients the best service possible. I will fight tooth and nail to get my clients the results they deserve.
Outside of work (being a self-confessed workaholic) I try and devote all my time to my 3 young children. I enjoy de-stressing by going on holiday (who doesn't?) and attending the gym.
Ayesha shared her early journey as a student at Levenshulme High and spoke about her experiences and challenges as a solicitor in such a competitive field. She gave some useful tips and advice about the world of work. In addition to the talk Ayesha also kindly offered two work experience placements to our budding solicitors at Levenshulme High.
Her key messages to our students were:
Dream big
Work hard
Stay focused
And surround yourself with good people
Ayesha Nayyar's feedback after her talk
I left Levenshulme High School almost 30 years ago and it was an honour to be invited back to give a talk to the girls. I am incredibly proud of my successes and a lot of credit has to be given to Levenshulme High for giving me the best start in life. Talking to the girls transported me back to what I always describe as some of the happiest years of my life. I made great friendships that I treasure till today. I came from very humble beginnings and left school with nothing but my own intelligence and desire to succeed. If I can do it, then anyone can!

My advice in a nutshell is that they must always give 100% and aim to be the best version of themselves they can be. There is no substitute for hard work but no better feeling than when it pays off!

The students were an absolute credit to the school and I left immensely proud and confident that the legacy of Levenshulme High girls achieving will long continue.
Students feedback
It was amazing to hear from someone who went to the same school. She has achieved so much!

Ayesha is such a hard-working business woman.

Her talk made me realise to never give up.

I have to say that the talk has boosted my motivation to get up off my feet and fight for what I want in such a competitive industry.

If Ayesha Nayyar from Levenshulme can do it, so can I.